Isolation and a lack of social interaction are common concerns when people think about remote working. The word "remote" itself can conjure up ideas of loneliness and being disconnected from your colleagues. That's why we like the more empowering language of "Anywhere working", with Anywhere representing an unconstrained, plugged-in destination.
There are plenty of ways to stay sociable outside of the office. So read on to find out:
How to foster positive and lively communication with your team
How to form new connections outside of work
How to take advantage of the opportunities of working Anywhere.
CREATE A SHARED TEAM CULTURE
The easiest way to create a sociable atmosphere within your team is to encourage over-communication. In a distributed team, it's easy to worry you're bothering someone with comments or questions.
Encouraging people to communicate frequently via their internal comms tool and hold regular video calls to create an environment where people feel comfortable to reach out to each other. Whether it's to ask quick questions or to have longer discussions, your team should be able to engage just as they would in an office.
It can be difficult to interpret tone and nuance over text chat. It's important to be mindful of how other people might perceive your writing. Emojis, exclamation marks, or GIFs can help to make your written communication sound friendlier, when appropriate. Discussing topics where you anticipate more debate or critiques? Video calls offer an opportunity to conduct discussions in a clear, polite and productive manner.
You could also create a virtual 'water cooler' in your team – an agreed time, chat stream, or video call explicitly for non-work related chat. From your favourite music genres to the latest Netflix series, these conversation channels offer an opportunity to engage with your team in a relaxed setting.
However, you choose to do it, make sure that everyone can contribute and that conversations can evolve naturally as they would in person. The more you do this, the more your team will feel connected, comfortable and sociable.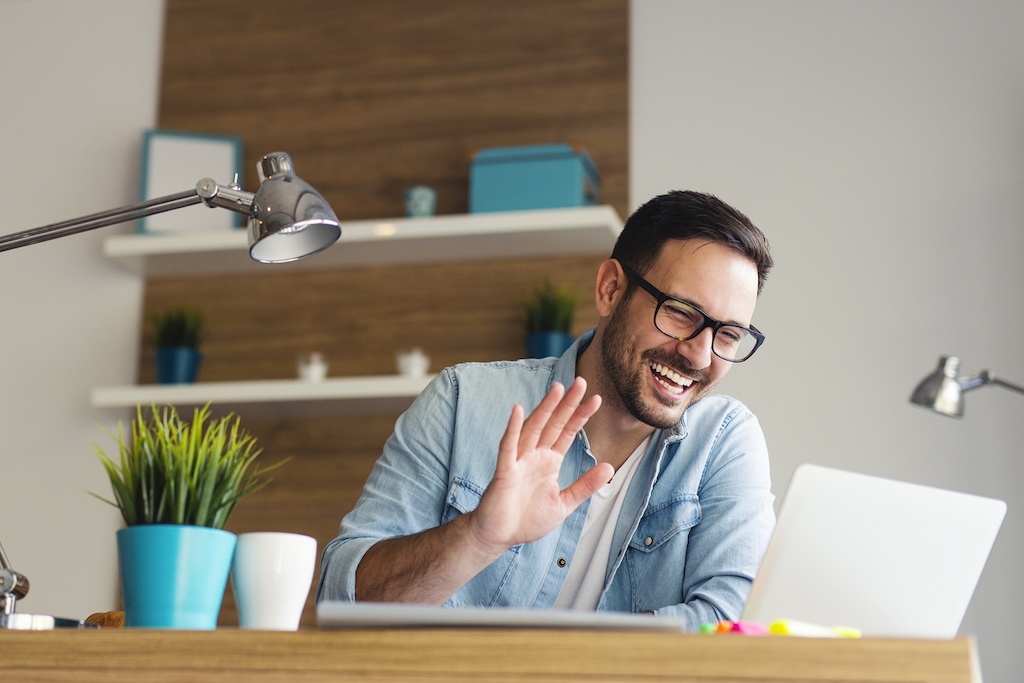 MEET UP WITH OTHERS IN YOUR AREA
Try to meet up with some of your distributed teammates or others in your company if they live in your area. You could hold regular 'office days' in a hired or shared space if there is a group of you, or simply meet up with one or two colleagues in a coffee shop if you don't need a dedicated office location. Spending a day here and there with your teammates can be a useful way to bond and collaborate.
If none of your colleagues lives nearby, sites like Meetup.com or Eventbrite are great for finding social and networking events in your area. You could attend events related to your industry, meet-ups aimed at those who work Anywhere, or broader events aimed at people working in a variety of sectors. Attending events like these can help you form connections with a wide range of people, and can create an experience similar to bumping into others in your building in a traditional office.
If you feel you need more routine and prefer a more traditional working environment, a co-working space might be best for you. Many co-working spaces hold their own networking events where you can meet your teammates. It's a great opportunity to share spontaneous conversations with workers who might also want to form new connections. The growing popularity of co-working spaces means you should be able to find one that best fits your preferred working environment.
TALK TO OTHER ANYWHERE WORKERS ONLINE
If you aren't able to physically meet up with other people who are working Anywhere, there are plenty of online resources that can help you to connect with others.
Use Facebook, LinkedIn or Twitter groups to find people for 'virtual networking'. You might even be able to organise your own face-to-face event with some of the people you meet.
Groups like these mean you can still make meaningful connections and share tips about your experiences of working Anywhere, no matter where you are located.